Many of you know the primary difference. The stain that works best outside are the best, while the other is good enough to be around humans daily without poisoning them. Or was that just my basic understanding before restoring log houses? 😁 What protection they offer is the question that needs to be asked. Many need to understand the science between them and why some stains are far superior to others.
In this article, we'll discuss:
Additives in Exterior Stain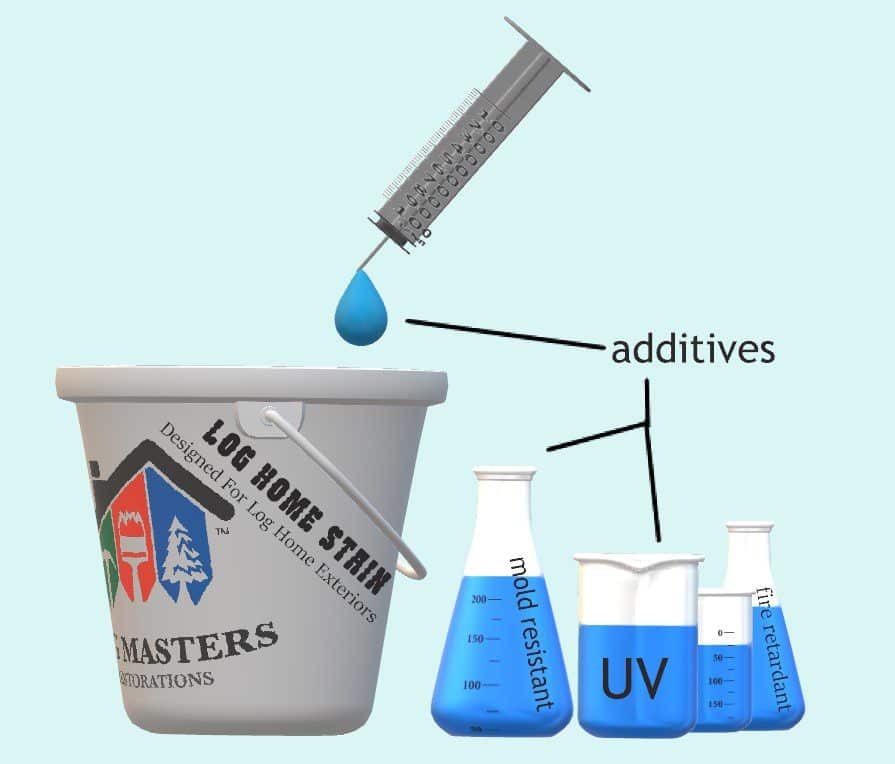 The main difference between indoor and outdoor stains lies in the additives. Additive treatments are necessary to enhance the stain's strength due to the harsher weather elements on the exterior than the interior.
For instance, UV protection additives help with the day's tortuous sunlight. Other additives include chemicals that prevent the growth of molds, mildew, and fungus. 🔝
Oil or Water Based Stains?
Most in the log home industry agree that oil is the best stain. Unlike water-based stains, it penetrates deep into the wood giving it excellent protection. It also doesn't need clear coat maintenance. It does, however, get darker with each additional coat. Some say it doesn't have the same luster as water-based stains, which shine in the sunlight. Click here to learn more about the pros and cons of water and oil-based stains. 🔝
Treat Your Logs
We recommend treating your logs with some form of insect guard solution like borate. This should reduce the chances of wood-destroying insects infiltrating your logs. You should also insure the EMC is at the correct humidity level. Learn more about blistering here. 🔝
Avoid Linseed Oil
For exterior stains, avoid linseed oil, which is often promoted for being environmentally friendly. Black blotches under the stain have been reported by log homeowners I've talked to. 🔝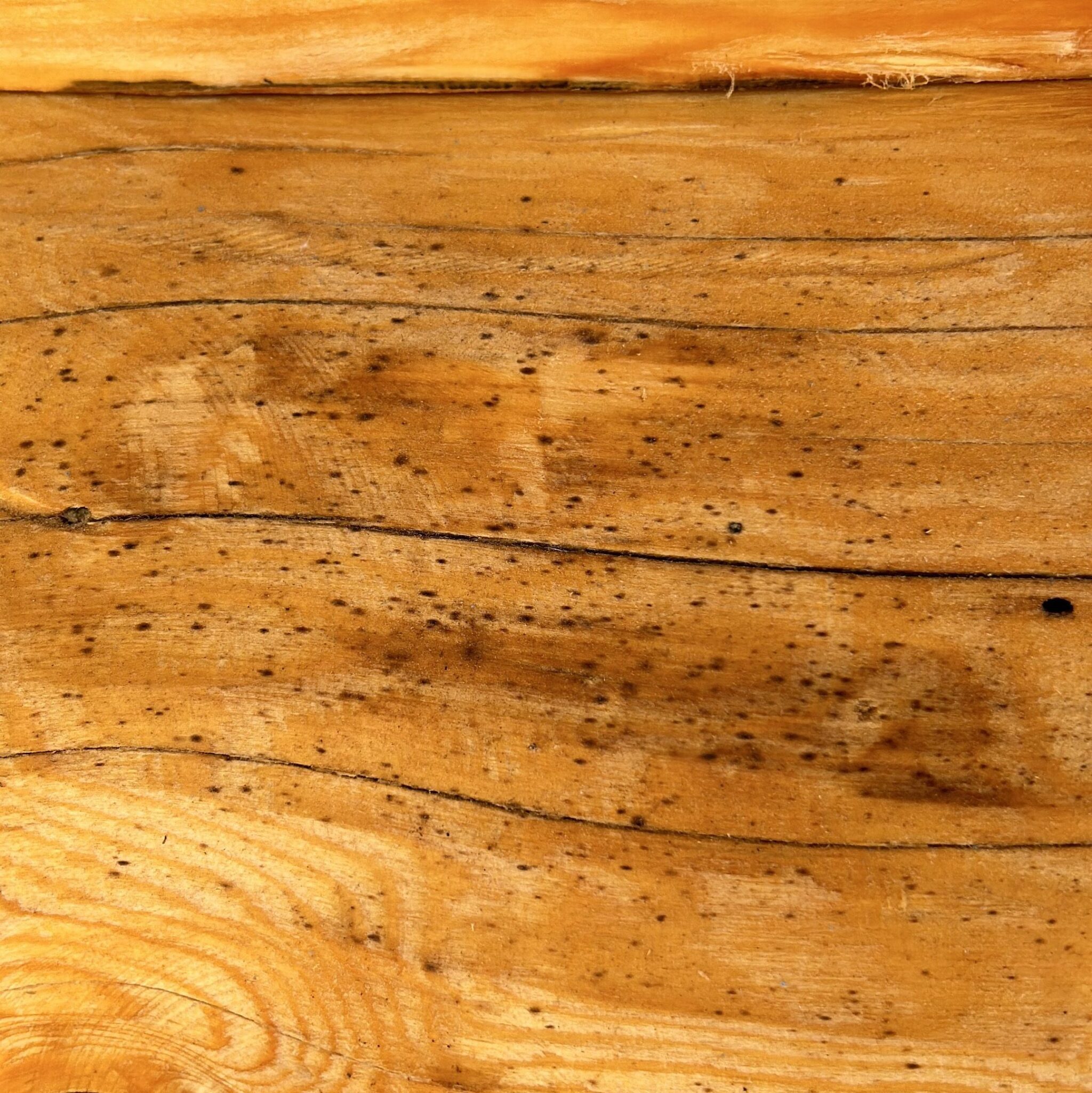 Customer Experience
The black blotches pictured to your left on the log are from a customer in Alaska who used Seal-It Green. She profoundly regrets using it and feels deceived.
Seal-it Green advertises as a plant-based wood sealer that includes mold-resistant additives. The customer claims this happened in 2 years. The suggested corrective action was to sand or media-blast the old stain off entirely and put on a superior stain with multiple additives.  
She had hoped to avoid this costly and timely corrective action, but if she did, the mold could spread under a fresh coat of stain, causing unseen damage. 🔝
Contact the Stain Manufacturer for Advice
Since this customer is environmentally conscious, natural oils like lemongrass and geranium may aid in the prevention of surface mold. We recommend contacting the manufacturer to see what they recommend for cleaning the mold growth, not harming the existing finish. Unfortunately, she has not had any success with contacting them. 🔝
!!!!Word of Caution!!!!
…many oil-based finishes contain linseed oil, which is a known contributor to mold growth… particular manufacturers promote "plant based" stain, and Linseed oil is derived from the seeds of Flax vegetation…. but it may also contain extracted plant oils from tung or soybean – they also can feed mold spores to contribute to mold growth….

Perma Chink Consultant-Anonymous
Regular Maintenance and Cleaning
 Regular cleaning is the only way to control surface mold, regardless of the finish. We highly recommend lightly washing your exterior logs in Spring and Fall. Perhaps even spray on some borate. Need help with the cleaning? We offer pressure washing and cleaning services. Check our 3 Log Home Tips. Regular maintenance is recommended every 3-5 years, depending on your humidity region. Please feel free to contact us with your questions. We will try to respond within 24 business hours. 🔝